Former President Donald Trump began his final string of rallies on Thursday night in Iowa to rally voters behind his Republican endorsements before next week's midterms.
Trump will make four stops during the final five days before the November 8 election, including Florida, Pennsylvania and Ohio. Thursday's rally in Sioux City was dedicated to Iowa Senator Chuck Grassley and Governor Kim Reynolds, who have both earned Trump's endorsement in their reelection campaigns.
The former president's sticker of approval proved to be valuable during the GOP primaries earlier in the year, with 91 percent of his over 200 endorsements making it to the midterm ballot, according to a report by NPR.
However, as Trump attempts to make the final plea for his MAGA cohorts, it's still unclear if his endorsement is enough to beat Democratic rivals in some of the year's most closely-watched elections.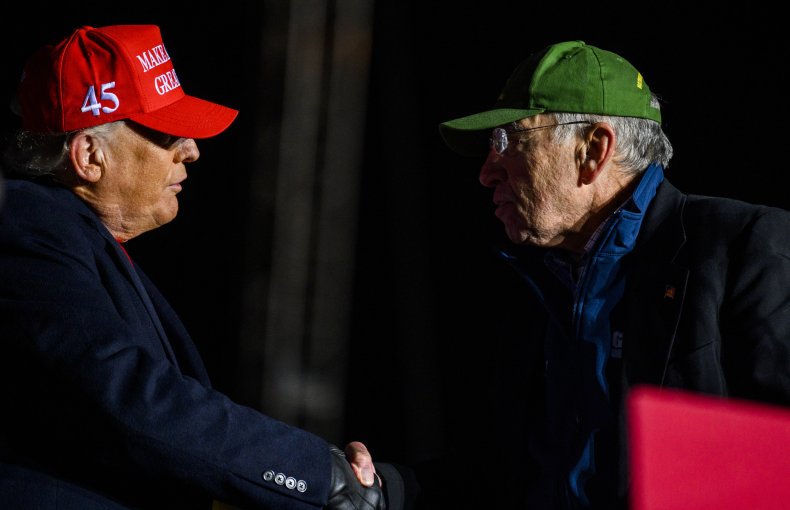 Iowa
Incumbent Reynolds currently holds a comfortable 17-point lead over her Democratic challenger Deidre DeJear, according to a Des Moines Register/Mediacom Iowa Poll published in mid-October. FiveThirtyEight also ranks Reynolds as "very likely" to win on Tuesday with 58.6 percent of the popular vote.
Grassley may have needed Trump's visit a little bit more with a mere 3-point lead over his Democratic opponent Mike Franken, according to the Register. However, the most recent data from FiveThirtyEight shows Grassley holding 55.9 percent of the popular vote, and predicts that the incumbent is "very likely" to win on Tuesday.
Trump told his supporters during his rally that Grassley was up against a "radical left Democrat" and said that Franken was an "open-border extremist who wants to see drugs, criminals, illegal aliens pouring into our country."
"I don't think that's Iowa's values," Trump added.
Florida
Trump will stop in Miami on Saturday to rally behind Senator Marco Rubio, who currently leads his Democratic challenger Val Demings by 7.1 points, according to FiveThirtyEight.
Rubio shared the stage with Florida Governor Ron DeSantis on Thursday night in Kissimmee, where he told supporters that the "key issue" heading into the midterm election was that Democrats cannot continue to hold control of both the White House and Congress, reported the Tallahassee Democrat.
"If they remain in power in Washington for another two years, they will destroy this country and we will not allow anyone to destroy the greatest country in the history of the world," Rubio said, according to the Democrat.
DeSantis is comfortably leading Democrat Charlie Crist in the gubernatorial race, with polling conducted Monday pointing to a 10-point lead, according to FOX 35 News.
The incumbent governor, however, will not be attending Trump's rally Saturday night, according to CNN, and instead plans to host his own event elsewhere in Florida. Tensions have continued to rise between Trump and DeSantis as the Florida governor is believed to be the former president's biggest challenger in the 2024 presidential election.
Pennsylvania
The former president on Sunday is heading to Latrobe to share a stage with senatorial candidate Mehmet Oz, who is running in one of the most closely watched elections this race.
Oz as of Thursday held a 2-point lead over his Democratic challenger, Lieutenant Governor John Fetterman, according to the latest Emerson College Polling/The Hill survey. However, FiveThirtyEight had the two candidates nearly neck-in-neck Thursday night, with only a 0.3-point difference between them.
Fetterman, who could be crucial for Democrats to eradicate the filibuster in the Senate this midterm, lost a good chunk of his lead against Oz after stumbling during the only live debate between the candidates on October 25.
While many voters worsened their opinions on Fetterman after the debate, according to The Hill, some strategists have questioned if Trump is truly what Oz needs heading into such a tightly-contested race.
One Republican strategist said in a separate report from The Hill that appearing with Trump onstage was "probably not" a good idea for Oz given that the senatorial candidate has repeatedly tried to distance himself from Trump's election fraud claims in order to come across as moderate to undecided voters.
Ohio
Trump's final stop will take place Monday in Dayton, where Senate candidate J.D. Vance recently took a 2.7-point lead against his Democratic opponent Tim Ryan, according to FiveThirtyEight.
A USA TODAY/Suffolk University Poll echoed Vance's tight 2-point lead on October 17, but the Senate seat could still be too close to call, with the publication allowing for a 4.4-point margin of error.
Ryan has tried to use Vance's proximity to the former president as a weapon against him, painting Vance as an extremist on issues like abortion and repeatedly bringing up when Trump called the Republican candidate an "ass-kisser" during a rally in September.
Vance said during the last debate that Trump's jab was merely a "joke."
Newsweek reached out FiveThirtyEight for comment on Trump's upcoming rallies.