Published on 11/3/2022 at 1:49 PM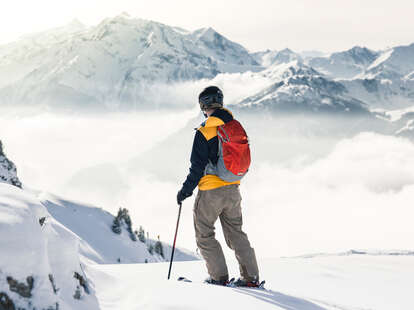 Point Blanq/Unsplash
We independently source all of the awesome products and experiences that we feature on Thrillist. If you buy or book from the links on our site, we may receive an affiliate commission — which in turn supports our work.
Per the ski bum cliché, skiing is not an activity but a lifestyle. It's a committed enterprise—much like marriage, or owning a dog. Even at its most rudimentary level, it'll demand research, lengthy travel times, mountain passes, lessons, weather-appropriate garb, and a boatload of equipment. In other words, planning your first (or your 17th) ski weekend is hardly a light-touch project. You'll need directions, accommodations, and reservations; and for those of you who are neither card-carrying ski bums nor the types of people who say things like, "My family winters in Vail, I could pretty much ski before I could walk," rentals are a must.
That said, beyond the gear you'll snag directly from your chosen mountain destination (i.e. poles and skis), you'll also want to come prepared with a pack of your own. Think about it: Do you really want to borrow a pair of pre-loved wool socks? What happens if you get hungry on the slopes? What if your lips get chapped?
Whether you're opting for a brief overnight or a proper long-form ski resort vacation, you'll want to make sure you've got everything you need to feel safe, comfortable, and most importantly, warm. That's why we tapped ski-centric travel agents, bona fide ski bums, and the folks behind beloved ski resorts for their insight on the most non-negotiable packing essentials for your next journey to the slopes.
May the below ease your pre-planning stress—or, at minimum, lessen the likelihood that you break your entire body.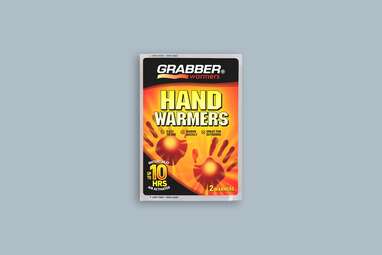 Amazon
While you would never forget to pack gloves—you're not a masochist—sometimes even the most protective hand garb isn't enough for extreme winter temperatures. And for those long moments spent waiting idly in line for the lift, odds are things will get pretty chilly. "These tiny packets of magic can make all the difference on a cold day. Put them in your gloves or boots to warm your extremities, or just keep them in your pocket to keep your cell phone battery from dying," says Brooke Greery, communications specialist at renowned Vermont ski mountain, Killington. "They're cheap, so stock up and never be the one complaining you're cold on the lift."
Dissent
Dissent Merino Wool Ski Socks
"You'll definitely wanna bring at least two pairs of good wool ski socks," says Lesley Egbert, a certified ski instructor and luxury travel consultant at Longitude Travel. "One for when you're shredding and one pair when you're done. Your feet will thank you for having a nice pair of dry socks waiting." And in that realm, you can't go wrong with Merino wool: It's moisture-wicking, reliably warm, and best of all, rarely itchy.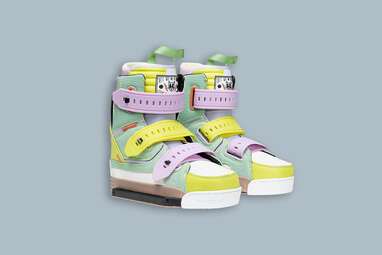 Backcountry
Rental ski boots are always a solid option—especially if you're just dipping your toes into the whole ski thing—but for more committed skiers, Kendra Thornton, dedicated ski specialist at Royal Travel & Tours, recommends investing in your own pair. "Even if you rent your skis, having your own boots is key," she says.  "The most important thing while skiing is for your feet to be warm and comfortable, and that can often feel like a crapshoot if you rent boots."
Amazon
"You may never want to wear a face mask again, but when you're skiing and snowboarding, it's essential," says Greery. Not only will a dual-lined gaiter like this Blackstrap option help keep you warm, but it'll also protect your skin from wind and sun. Plus, cloth gaiters are ultra-light and easy to pack, so Greery recommends keeping an extra in your pocket at all times, just in case one gets wet or lost.
Janji
When it comes to keeping warm, skiing is a layers game. You're going to want to preserve as much heat as possible, but avoid feeling too bulky (at the risk of slowing yourself down on the slopes—a proper tragedy). "Layers are a must—but no cotton, folks! Cotton gets wet and keeps you cold," Egbert advises. "Look for Merino and polyester or polypropylene blends that wick moisture away from the skin to keep you dry, and consider performance tights with muscle and joint support technology for dual benefits."
Outdoor Voices
Naturally, you'll also want to attend to everything from the waist up—and when it comes to layering on top, it's hard to go wrong with an OV turtleneck. "Mountain conditions can change drastically throughout the day, so start with a moisture-wicking base layer and then add a mid-layer or two for warmth and finish off your kits with a waterproof top layer," says Greery. "If you get hot, the mid-layers can be shed or added as needed."
REI
Skiing is an athletic undertaking, so odds are, your core temperature will remain pretty stable—it's your extremities that you've gotta worry about. And while mittens might feel more juvenile than five-finger gloves, Thornton says they're certainly your warmest option. And frankly, on the slopes, what do you really need your individual fingers for? "Cozy mittens are essential and Hestra is my go-to brand—they're far and above the warmest mittens I've used, and they have so many styles and colors," she says.
Arc'teryx
"The old adage goes, there's no bad weather, only bad clothing," says Greery—and she's correct. If there's one thing you'll regret on your ski weekend (barring any lethal injuries or otherwise traumatic incidents), it'll be bringing the wrong coat. You'll need something maximally warm but not bulky, with room for layers underneath. "No one likes to be cold, especially little kids, so invest in some good gear," adds Egbert. "For tough conditions, you'll want to go with a trusted brand like Arc'teryx."
GoPro
Pics or it didn't happen, right? "Catching big air is no good if no one can see it!" says Egbert. "And after your trip, it's always fun to see footage of your shredding skills…or your family." So for the sake of documenting your mountain clout without destroying your camera in the process, opt for a GoPro Hero 11, a new model of the adventure-forward camera designed specifically for skiers. It's weather-proof (even in the most extreme temperatures), waterproof, bulletproof, and equipped with video stabilizing technology so your lo-fi footage will certainly feel like the real deal.
Smith Optics
"You don't technically have to wear a helmet skiing or snowboarding, but you'd be foolish not to," says Greery. "Not only are they super warm, but they protect your brain in the event of a crash—major or minor. Even a seemingly harmless tumble can have serious consequences if you hit your head, so do yourself a favor and don't forget your brain bucket." In summary, you're never too cool for a helmet. Seriously.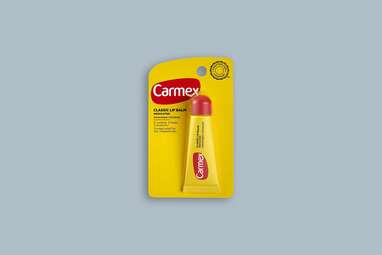 Amazon
Chapped lips might sound relatively low stakes in the grand scheme of things, but trust us, keeping heavy-duty lip balm handy is always a good idea. "Your lips get so dry while you're skiing due to the wind, the elements, and the altitude," says Thornton, who swears by classic Carmax when it comes to side-stepping dry, cracked, and painful lips on the slopes.
Backcountry
You won't want to weigh yourself down too much while you're zooming about, but a manageable backpack is always nice for easy-access essentials. "Pack extra gloves, socks, gaiters, sunglasses, snacks, and water in a day pack—you certainly won't regret it," says Egbert, who recommends something low maintenance and waterproof like this Patagonia classic.
Vallon
The benefits of ski goggles are two-fold: They'll protect your eyes from harsh winds (and on occasion, snow), and they'll do double duty as sunglasses—an essential on bright days, when the glare from the sun on the snow can be blinding (literally). "Reflector goggles are all the rage now, but good polarized lenses help you spot uneven terrain and reduce the glare off the snow on a sunny day," says Thornton.