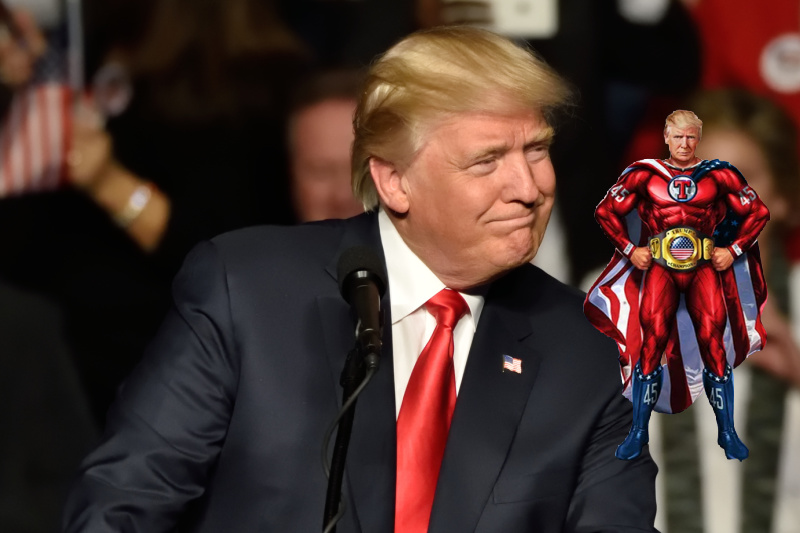 Are Trump Cards at the top of your Christmas List this year?  For just $99 you could be the proud owner of President Donald Trump dressed as a super hero NFT.
You were probably just starting to get a grasp of how Crypto works, and now the former President of the United States is pushing non-fungible tokens.  So what exactly is a NFT and why do you want one?  
A simple Google search explains, "NFTs are digital files. They can be a jpeg of a piece of art, real estate, or a video. Turning files into NFTs helps secure them via blockchain to make buying, selling and trading efficient, reducing fraud considerably."
What Is A NFT
According to the official Trump Card website, "These are just like baseball cards, but you collect them digitally, on your computer or phone. All you need is an email address and a credit card to start collecting 1, 10, 20 or 100. Instantly become part of a new league of collectors."
Of course, you aren't JUST getting a fun picture of the former president to save on your computer, you also are getting a chance to win one of thousands of Donald Trump themed prizes.  Like a trip to Mar-A-Logo, an afternoon of gold with the former president, a Miami dinner with Trump, or smaller prizes like signed memorabilia and zoom meet and greets.
Donald Trump Cards & Campaign
Interestingly, Donald Trump's bizarre launch of NFT baseball cards of himself comes just a month after his announcement to run for President of the United States again.  Of course that news didn't really come as a surprise to anyone and it will be interesting to see how his campaign starts to take shape.  
So, if you have a diehard Donald Trump fan on your Christmas shopping list and need a last minute present, head over to his official NFT website and purchase a few digital gifts.  You never know, they could be worth millions some day, or pennies?
Let us know what you think about the Trump cards in the comment section below and keep checking Celebrating the Soaps for more Donald Trump news and updates.
Editorial credit: Evan El-Amin / Shutterstock.com