Local powerlifter named to Team Canada for Special Olympics World Games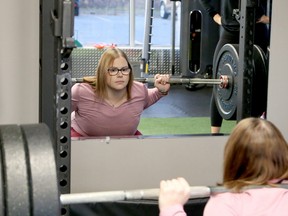 At first, Josee Seguin didn't think her wrist was broken.
Skating at the Queen's Oval early in 2021, Seguin was yet another Sudbury athlete without a gym, pool or rink—shut down due to COVID-19 pandemic restrictions.
Like so many others, the Special Olympian and world-champion powerlifter had taken her training outdoors.
Stopping on the ice, she slid and fell, putting out her left hand to slow her fall. As it didn't even hurt, and there was no bruising or swelling, she continued skating.
Still, her wrist looked odd. Then the shock settled in. Two days later, she was having the first of two surgeries.
Of course, it all feels so long ago.
A plate and 10 screws now have a permanent home in her left wrist. Gyms are open and Seguin was recently announced as a member of Team Canada's powerlifting team at the Special Olympics World Games in Berlin, Germany, June 17-25. Her coach, Lisa Armstrong, was also named to the team.
More than 7,000 athletes from 170 nations are slated to compete in 24 sports.
"It's great, exciting," says Seguin. "It's a new place, different team members going."
Originally from New Liskeard and now living in Sudbury, Seguin has been a member of the Special Olympics community for the past 15 years. She lives with cerebral palsy, epilepsy and vision impairment. She is a full-time personal support worker in long-term care.
Seguin is philosophical about the break, at least in terms of the timing. After all, it was during a pandemic lockdown. Gyms were closed. If this was going to happen, well, maybe there were worse times for this injury.
"It wasn't a good time to break a bone, but it was a good time to break a bone," she says.
Still, it was a bad break. She describes her broken wrist as split, like a fork.
"It was so badly broken. It was shattered pieces."
Exactly a year later, this past March, she underwent a second surgery to alleviate the issue of the plate rubbing against her wrist.
When her specialist had cleared her after each surgery, she returned to working out, first at home, and then back to the gym this year.
She currently trains at Healthy Living's location in Sudbury's south end. Callan McGibbon, Healthy Living's founder and trainer, is also one of her coaches.
Currently, there are no ill effects from the two wrist surgeries, she says. In fact, she feels stronger now and is lifting more than she was before than before the pandemic.
She credits her fitness to the fact she stayed active and ate healthy during the pandemic.
At the Worlds in 2019, her first, she won three gold and a silver. She'd like to return from Berlin with more medals.
"That's the goal, but we'll see what happens."
She is training with specific goals to achieve in Berlin: to complete a 300-pound deadlift, 220 for squat and 135 pounds for bench press.
Seguin also plays soccer and swims with the Special Olympics in Sudbury. About 10 years ago, she added powerlifting to her life, just to try it.
In Sudbury, Special Olympics Ontario athletes are training in sports that include floor hockey, curling, swimming, five-pin bowling, snowshoeing and swimming.
Laura Young's Personal Best column runs regularly in The Sudbury Star.