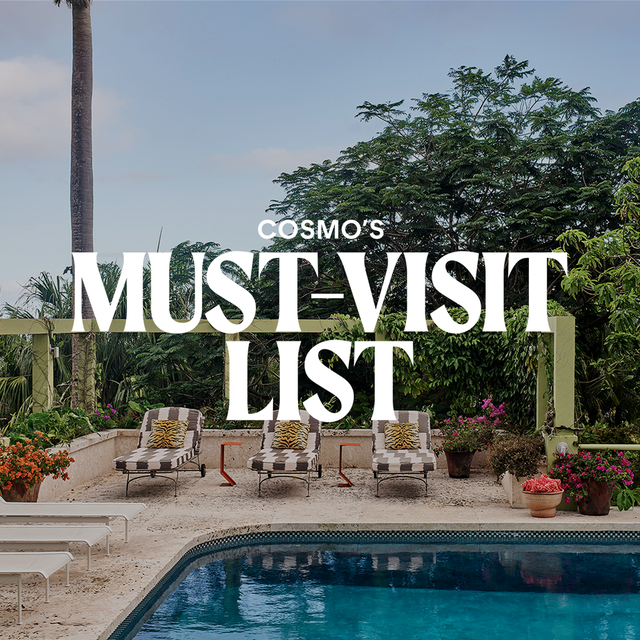 Courtesy of Golden Rock Inn
Juuust about a three-hour flight from Miami, there are a pair of volcanic islands that make up the Federation of Saint Kitts and Nevis that are kinda the best-kept secret in the Caribbean. So when the opportunity to travel to Nevis (the smaller of the two islands) hit my inbox a few months ago, I was intrigued. And when I saw where I'd be staying—the quaint, adorable Golden Rock Inn boutique hotel for the first part of the trip and the legendary Four Seasons Resort Nevis, West Indies for the second, I quickly RSVP'd.
Before I help ya plan your trip to paradise during this installment of Cosmo's Must-Visit List, here's the lowdown on Nevis: Much like surrounding vacation spots (think: Turks & Caicos, St. Barts, or The Bahamas), it has everything from white sandy beaches, clear blue waters, opportunities for both relaxation and adventure, and a life-is-good spirit that's so quintessentially Caribbean. But unlike other islands in the area, the major plus is that Nevis has remained relatively hidden and is not at all flooded with tourists. In fact, it feels a little like an exclusive private island…which is probably why it was a fave spot of Princess Diana's (!!).
Long story short, Nevis is a high-key treasure to uncover, and I'm about to let you in on *the* best adventure hotspots ~spas under the stars~, and all the food and cocktails you gotta try, from the sweet rum to the spicy seafood. Keep reading for everything you need to know before planning a trip to this magical little island.

(FYI: The writer's accommodations, meals, and some scheduled activities were comped in order to write this review.)
Stay
Golden Rock Inn: This 11-room property (a former sugar mill, btw) is tucked away in the mountains of Nevis and owned by renowned New York artists Brice and Helen Marden. With the help of architect Ed Tuttle, the couple managed to bridge their passion for art and design with an appreciation and respect for nature. The result is a colorful and whimsical hotel that'll make you feel like you're totally immersed in the jungle, thanks in part to the 40-acre garden that's home to monkeys, hummingbirds, small reptiles, and more than 50 species of palms. I mean, I caught absolutely delish fresh mangoes straight from a tree. I also had a few other unforgettable experiences that gave me a chance to unleash my inner nature girl (more on that later) during my time at Golden Rock Inn.


Courtesy of Hanna Flanagan

Courtesy of Golden Rock Inn

The Four Seasons: After spending a few days exploring the mountains, I packed up my bags, kissed the idyllic Golden Rock Inn scenery goodbye, and checked into the Four Seasons oceanfront resort for some serious R&R—10/10 would recommend, let me tell ya. It was love at first sight when I opened the doors to my suite, which had *stunning* ocean views, one of those beds that practically begs you to take an afternoon nap, and the bubble bath-worthy tub of my dreams. Although I have to admit, I was sold the second I entered the lobby, which features an open design and a breathtakingly beautiful view of an infinity pool overlooking the ocean (and because we're talking about the Four Seasons, there's not just one pool, there's three!). Additional amenities include a full spa, golf course, tennis courts, pool cabanas, beach hammocks, floating dock bar, water sports, three restaurants, and so much more.

Courtesy of Four Seasons Nevis

Courtesy of Hanna Flanagan
Play
Hike to Nevis Peak: It was physically, mentally, and emotionally exhausting—and practically a straight climb up the muddy mountain—but the overwhelming sense of accomplishment I felt after finally reaching the top was so worth the pain and three days of soreness. So, this might be a hot take, but the grueling Nevis Peak hike was actually a real highlight for me. (If that doesn't convince you, the hotel can hook you up with a much less strenuous two-hour hike instead.) Other popular adventure-filled excursions at Golden Rock Inn include snorkeling, fishing, mountain biking, ATV tours, and horseback riding.


Courtesy of Hanna Flanagan

Rum tasting at the Four Seasons: During the class, you'll enjoy some delicious spirits (no, seriously—I usually am not a dark liquor fan but I drank every single one) from around the world while learning about the rich history of rum in Nevis and the rest of the Caribbean with the resort's master mixologist and overall good time gal, Kendie Williams.
Spa Under the Stars: Another must-do­—and worth-the-splurge—activity at the Four Seasons is their Spa Under the Stars experience where you'll have the entire outdoor spa to yourself. The romantic and peaceful night includes a volcanic stone whirlpool, a Japanese-inspired cold plunge pool and Sala Deck (aka a chill outdoor area), a Nevisian Massage around the garden pool, and a candle-lit dinner. If you decide to book Spa Under the Stars with your partner (or potential partner 🙃), I can almost guarantee that it'll be one of the most romantic nights of your life.
Explore the island's history: You'll be delighted to learn that Founding Father of the United States—and the inspo behind that kinda popular Lin Manuel Miranda musical—Alexander Hamilton was born on the island of Nevis and lived there until he was about seven years old. (Is "dropped in the middle of a forgotten spot in the Caribbean" ringing a bell for anyone?!). Anyway, the island preserved his childhood home and turned it into a must-see historic site called the Museum of Nevis History in the capital city of Charlestown. When you have some free time during your trip, I highly recommend paying it a visit!
This content is imported from Instagram. You may be able to find the same content in another format, or you may be able to find more information, at their web site.
Eat
The Rocks at Golden Rock Inn: It's known for serving up bright and bold traditional Caribbean food with a global flare. You can't go wrong with the crab cakes, spicy lobster tail, or green curry shrimp with coconut lemon grass, but my fave item on the menu was the chunky conch chowder.


Courtesy of Golden Rock Inn

A variety of Four Seasons dining experiences: Meanwhile, over at the Four Seasons, you'll get to choose between Caribbean cuisine at Mango, locally-sourced Caribbean food and American bar food at On The Dune, and a Mediterranean menu at Esquilina, in addition to poolside bites and room service. As for drinks, expect rum, rum, and more rum. No matter where you go on the island, you better believe sweet and refreshing rum punches will be f-l-o-w-i-n-g.

This content is imported from Instagram. You may be able to find the same content in another format, or you may be able to find more information, at their web site.

This content is imported from Instagram. You may be able to find the same content in another format, or you may be able to find more information, at their web site.

Passion, located in Cox Village near the Botanical Gardens of Nevis, is an off-site spot you must check out for authentic and fresh Caribbean cuisine. It's def a hidden gem and super casual eatery, but you gotta book a res and try the grouper in a buttery Creole sauce (and a rum punch, ofc).
Your Nevis packing list
For the beach
For everywhere else
Hanna Flanagan Hanna Flanagan is an associate shopping editor at Cosmopolitan, sharing her recommendations for everything from denim and eye creams to coffee mugs and silk sheets.