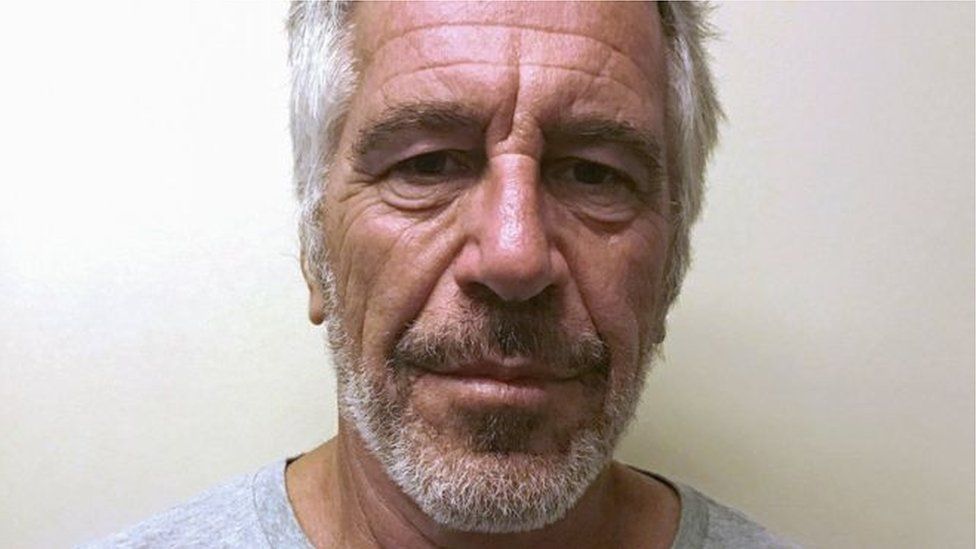 By Lora Jones
Business reporter, BBC News
Two women who accused Jeffrey Epstein of sexual abuse have filed lawsuits against JP Morgan Chase and Deutsche Bank.
They accuse the banks of ignoring "red flags" about their client and benefiting from the late financier's alleged sex-trafficking operations.
The disgraced financier took his own life in a prison cell while awaiting trial on sex-trafficking charges.
Both lawsuits were filed in New York on Thursday as class action cases.
They were brought by lawyers who have represented dozens of the deceased billionaire's accusers.
The women, who are also seeking financial damages, are not named in the filings, which were first reported by the Wall Street Journal newspaper and have been seen by the BBC.
According to claims in the lawsuit filed against JP Morgan Chase, one woman, described as a former ballet dancer, was abused by Epstein and his associates between 2006 and 2013.
It alleges that JP Morgan knew that its accounts were being used for trafficking because of the identity of the individuals withdrawing large sums of cash, as well as "Epstein's well-documented criminal history".
JP Morgan Chase declined to comment when contacted by BBC News.
In a separate lawsuit against Deutsche Bank, another woman claims she was trafficked for sex by Epstein for 15 years, starting in 2003 when she first moved to New York.
It claims that in some instances Epstein would pay the woman directly in cash for sex acts.
The lawsuit suggests that the wealthy Epstein turned to Deutsche Bank when ties were severed with JP Morgan around 2013.
It also refers to previous findings by New York banking regulators about Deutsche Bank's business with Epstein.
They concluded that "although the bank properly classified Epstein as high-risk, [it] failed to scrutinise the activity in the accounts for the kinds of activity that were obviously implicated by Epstein's past".
Deutsche Bank previously admitted that it made a "critical mistake" when taking on Epstein as a client.
But a spokesman for the investment bank said on Thursday: "We believe this claim lacks merit and will present our arguments in court."
One of the lawyers, Bradley Edwards, said in a written statement: "Epstein and his co-conspirators could not have victimised without assistance from wealthy individuals and financial institutions. We will not stop fighting for the survivors until everyone is held responsible. This is a big step but not the end.
He added: "The time has come for the real enablers to be held responsible, especially his wealthy friends and the financial institutions that played an integral role."