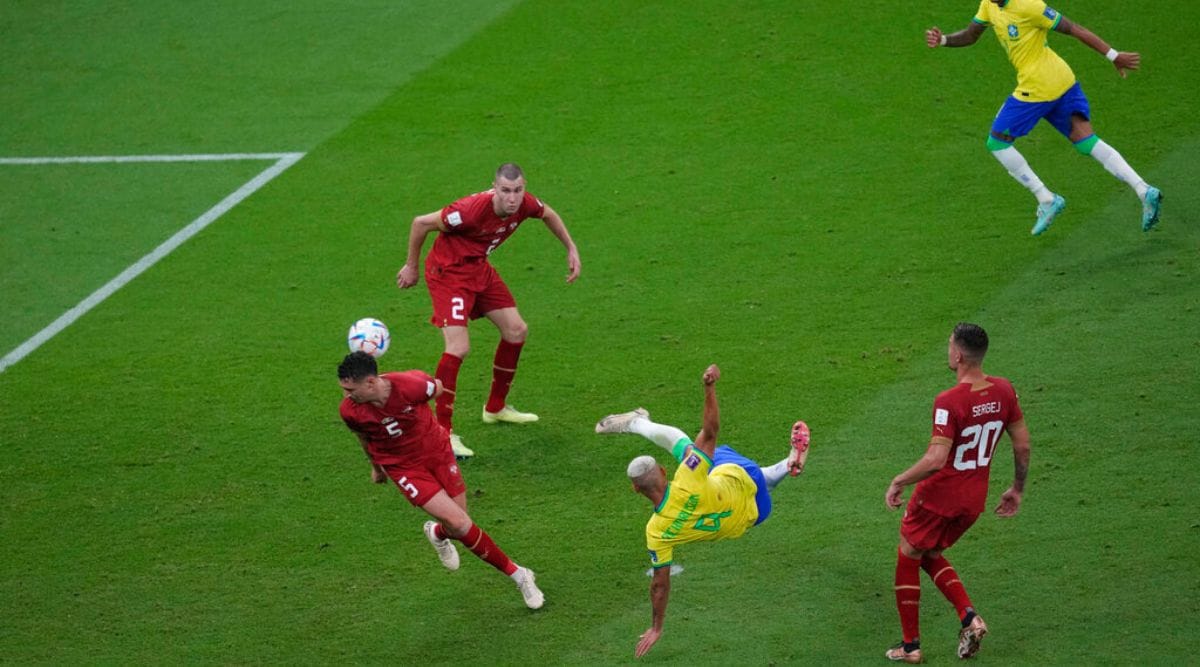 Brazil's Richarlison, center, scores the second goal of his team against Serbia during the World Cup group G soccer match between Brazil and Serbia, at the the Lusail Stadium in Lusail, Qatar on Thursday, Nov. 24, 2022. (AP Photo/Darko Vojinovic)
World Cup 2022, Brazil v Serbia Football Match Highlights: Richarlison scored two goals, the second with a spectacular acrobatic kick, to help Brazil beat Serbia 2-0 Thursday at the World Cup. In the 73rd minute, the striker used one touch to get the ball up in the air and then spun around and got off the ground before knocking the ball into the net with his right foot.
Brazil had struggled to get past the Serbian defense until Richarlison scored from close range in the 62nd in a buildup that started with Neymar. Vinícius Júnior assisted on both goals. Neymar, seeking his first major title with Brazil, stayed at 75 goals for the national team, two shy of Pelé's scoring record.
Brazil: Alisson; Danilo, Thiago Silva (c), Marquinhos, Alex Sandro; Casemiro, Lucas Paqueta, Neymar; Vinicius Jr., Raphinha, Richarlison. Serbia: Vanja Milinkovic-Savic, Milos Veljkovic, Filip Mladenovic, Strahinja Pavlovic, Nikola Milenkovic, Andrija Zivkovic, Nemanja Gudelj, Sergej Milinkovic-Savic, Sasa Lukic, Dusan Tadic (c), Aleksandar Mitrovic.
Live Blog
Brazil vs Serbia Highlights: Follow BRA vs SER highlights from Lusail Stadium.
Pilgrims flock outside Doha to watch Brazilian Gods train
The Stadium and locality was paint-brushed a fresh identity: Brazil's training ground, an address that would be tattooed forever. (Photo: Sandip G)
The geography shifts abruptly as you walk from Bin Mansoura Metro Station to Grand Hamad Stadium. The skyscrapers of central Doha fade in the distance, minarets pierce the cloudless skies. The bristle of the city drowns in the suffocating quiet of the neighborhood, but for the tyre-screech of luxury cars that blurs through the near-empty road.
Just 20 kilometers off Corniche it seems further distant from the endless bustle of the World Cup-soaked Doha. From nowhere manifests the undecorated facade of the stadium, once Doha's premier stadium and home to the Al-Arabi Sports Club, but now slumbering in the past glories, unstained by uber-modernity.
For the last one week, though, the calm has been shaken off. Swathes of policemen in black jackets and caps with slick automatics tucked in their waistbands prowl the locale. The beep of sirens intrude the quietude. On those days, an army of men and women in the yellow and green flock to the ground, as though for a pilgrimage. (READ MORE)
First published on: 24-11-2022 at 11:09:40 pm