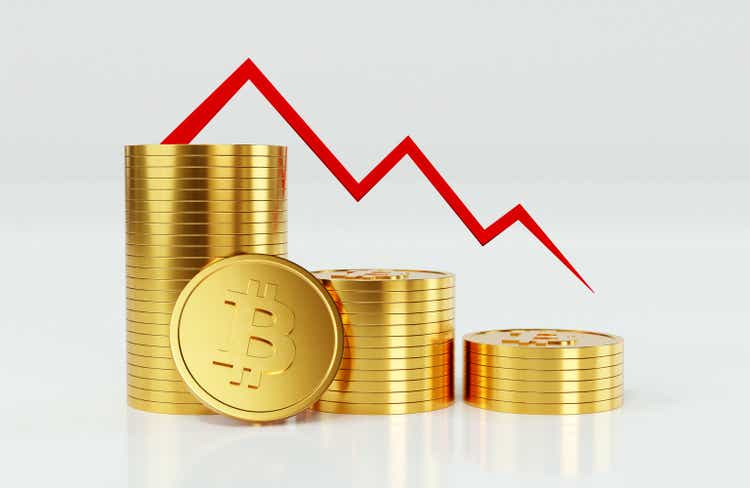 The collapse of embattled cryptocurrency exchange FTX (FTT-USD) has frayed investor confidence in the industry and its credibility. While many crypto companies fell victim to the resulting contagion, banks that deal with digital assets have also been impacted.
According to a recent S&P Global report, such banks have seen an increase in crypto-related deposit outflows. And this trend is expected to continue, given crypto volatility after the FTX collapse.
Crypto lender Silvergate Capital's (NYSE:SI) crypto deposits fluctuated by over $5B in a given quarter twice this year. Metropolitan Bank (NYSE:MCB) reported a 7.2% sequential decrease in total deposits in Q3, primarily due to a $485.9M decline in crypto-related deposits. Of this, S&P noted, 70% resulted from the bankruptcy of its customer Voyager Digital in July.
Signature Bank (NASDAQ:SBNY), which saw a $6.1B reduction in crypto deposits, plans to limit its crypto deposit exposure to less than 20% of total deposits. Customers Bancorp (NYSE:CUBI) saw a 9.5% sequential decline in Q3, according to S&P.
Provident Bancorp (NASDAQ:PVBC) estimated a Q3 loss of $27.5M related to loans to crypto miners amid bitcoin volatility and rising power costs. It warned that the actual figure may exceed this estimate. As of Sept. 30, the bank had $76.5M in loans secured by crypto mining rigs (5.2% of its loan portfolio) and $71M in lines of credit secured by bitcoin and ether.
In the past six months, shares of Silvergate (SI), Metropolitan (MCB), Signature (SBNY), Customers Bancorp (CUBI), and Provident (PVBC) all declined in double-digit percentages compared with the S&P 500's 1.9% increase.
S&P recently noted that FTX was once viewed as a "stabilizing force" in the crypto space as it offered to back troubled lender BlockFi in July. But the deal never went through due to FTX's own liquidity crisis and BlockFi eventually filed for bankruptcy.
Once FTX declared bankruptcy, 130 affiliated entities followed suit. Companies with significant exposure to FTX include Genesis Trading, Galaxy Digital and bankrupt Voyager. FTX founder Sam Bankman-Fried is currently facing multiple federal charges.
The FTX contagion also hit venture capital funding in the crypto sector. According to data firm PitchBook, the final eight months of 2022 saw a steep drop in VC investments — from ~$4B per month to under $1B, a trend that's expected to continue into 2023.
But all may not be lost. "Market fear and doubt percolated in 2022 as participants suspended operations and/or filed for bankruptcy. However, investors will likely become more comfortable investing in crypto in late 2023 as we lap 2022's failures and see more regulations, better risk management, and real-world use cases," said PitchBook senior analyst Robert Le.
Read why SA contributor Nathan Aisenstadt believes regulation and mandatory audits of crypto firms will help boost confidence.